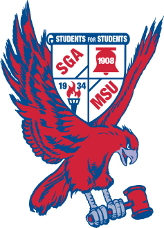 What can the SGA do for you?
The SGA is a not-for-profit corporation serving the students of Montclair State University. We oversee
more than 100 on-campus organizations
, including groups for public service, culture, arts, hobbies, sports, and greek life. Our aim is to enrich your college experience by giving you opportunities to connect with others, explore new interests, and lead your own clubs. Remember, it's your campus, your money, your SGA!
Want your voice to be heard?
Become a SGA legislator or a member of the President's Cabinet. Learn how the student government works by attending a weekly meeting of the SGA every Wednesday at 3:00PM in Room 411 of the Student Center